Nursing records go digital and win at MediWales awards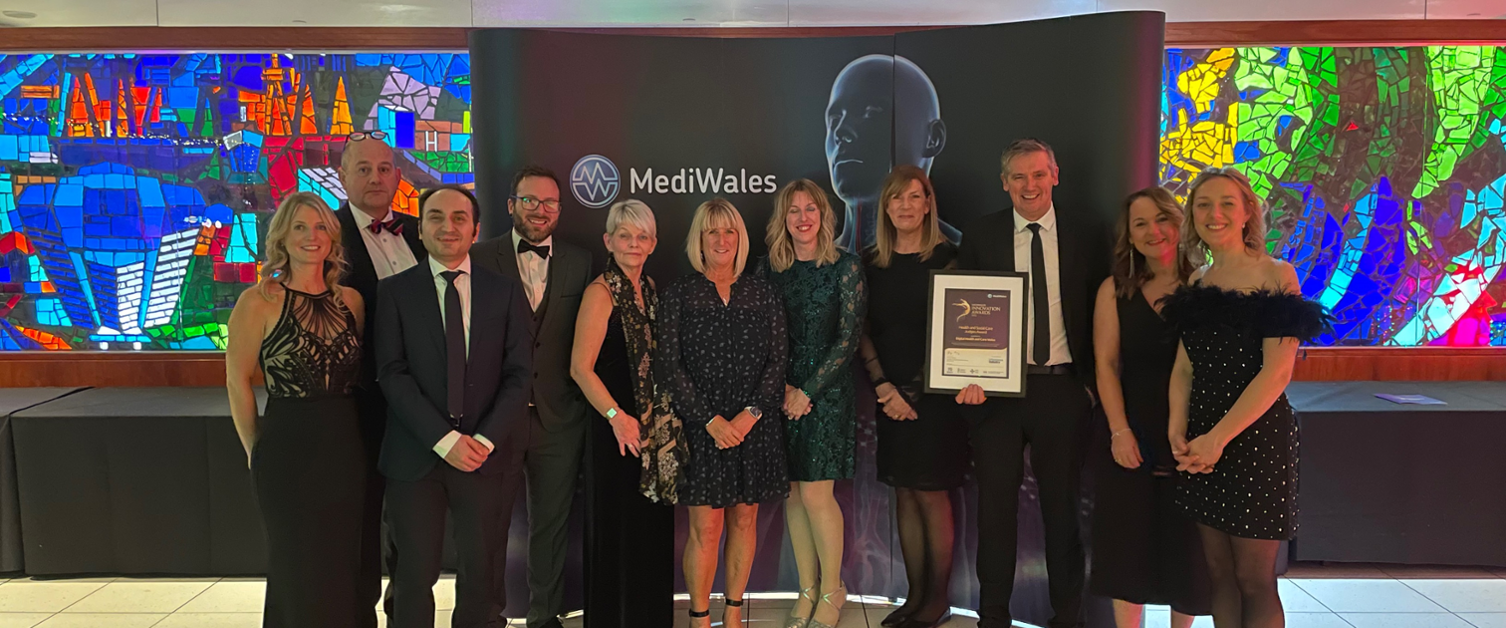 9 December 2022
Nurses across Wales are seeing the real impact of digital as they adopt pioneering technology to document care.
Paper forms have been replaced with standardised documents being use in practice with digital devices, such as hand-held tablets freeing up time for nursing staff while improving patient safety and experience.
Now, the impact of the new Welsh Nursing Care Record (WNCR) for adult in-patients has been recognised at the MediWales Awards 2022, winning the judges health and care award.
The judges said, "the WNCR is transforming the way nurses store, share and access patient information. This is a fantastic project and we're really impressed with the positive difference it's making to nursing in Wales"
Last month the WNCR achieved a major milestone with installation at The Grange University Hospital in Newport meaning the services is now available and being implemented within every health board and trust in Wales.
Developed by Digital Health and Care Wales in partnership with Swansea Bay University Health Board, and working collaboratively with nursing professionals, the system has been acclaimed as a huge step forward as part of the digital single patient record.
Nurses who were the first to try the new ways of working, have spoken about the positive difference it's made to their work in clinical practice.
Christine Evans, Ward Manager at Neath Port Talbot hospital said, "It's such a fantastic way forward for nursing - it's clear concise documentation, there's no room for error, it highlights all the risk assessments we need, it's easily accessible for everybody, all the MDT physios, occupational therapists, speech and language. Everyone who needs it can securely access the WNCR, at any time, it's become a really valuable piece of equipment for nursing"
Previously paper notes had to be stored and delivered to the appropriate healthcare professional – whereas now the information is available at the clinician's fingertips.
Helen Moody, a Staff nurse in Deeside Community Hospital, Flintshire, said she's found the WNCR a convenient and easy system to use,
"Different staff members can be looking at the same patients record, and you can input data at the same time. You can share admissions, and do different parts of the admissions with another nurse . It's much quicker than the paper process, and all the information's there that you need."
Claire Bevan, Senior Responsible Owner of the WNCR project said,
"Collaboration, engagement and listening to feedback from nursing staff has been the true success of this project. From the Chief Nursing Officer to registered nurses, health care support workers and the wider multidisciplinary team members, all have worked together to transform nursing in Wales by standardising documents and providing a digital solution in practice, to enhance patient safety and experience."