Board, Committee and Advisory Boards
The establishment of Digital Health and Care Wales on 1st April 2021 was announced by the Minister for Health and Social Care on 30th September 2019 with the aim of strengthening governance and accountability, both in terms of relationships with other NHS Wales organisations and through stronger leadership and oversight.
The DHCW Special Health Authority Board can have up to 15 members: 7 Independent Members and 5 Executive Directors, all of whom have voting rights, in addition up to 3 Associate Members of the Board can be appointed, these members attend on an ex-officio basis and do not have voting rights. Meet our Board members.
There are three Committees and one Advisory Group.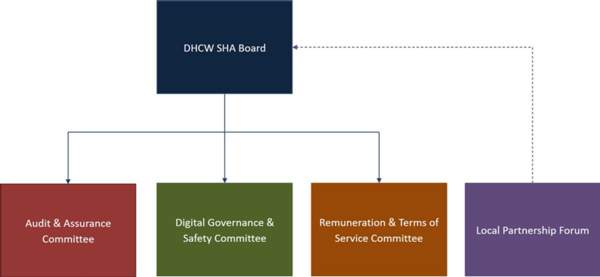 The Committees cover the following aspects of Board business:
Audit and Assurance;
Remuneration and Terms of Service; and
Digital Governance and Safety Committee to provide oversight and scrutiny of quality, safety, information governance, data quality, security and risk
Please click here for details of our Board and Committee papers.