Student spotlight - how Lloyd's digital degree skills help him in the workplace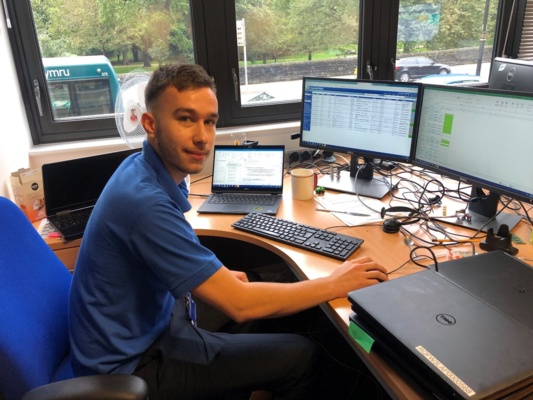 NWIS joined together with the University of Wales Trinity Saint David (UWTSD) in 2017 to set up WIDI (Wales Institute of Digital Information). It has supported several apprentices into informatics work, along with providing opportunities for existing staff to complete degrees in informatics subjects.
After his first year in NWIS, Lloyd Willis was looking for opportunities to undertake further education alongside his job, "the digital degree apprenticeship through the WIDI programme stood out above all others, as it covered a broad range of subjects and I'm given a day a week in university to attend my lectures".
Lloyd quickly progressed in work and took up a role in IT support, with his university studies helping him in the new role, "the WIDI course has given me a broader knowledge of a wider range of subjects, for example in the first year, we looked into; SQL coding for databases, software development (C programming language), and web design (html and css). Having had these skills has enabled me to better understand the needs of users we support".
Now he's completed the first year, Lloyd has secured a new role in NWIS with the Infrastructure Monitoring team. He says he is grateful for the first year of his qualification in helping him get the new job and is looking forward to continuing his studies to gain a BSc in Computing (Computer Networks & Cyber Security). "I start a new job with the Monitoring team very soon, and I think that even completing just the first year of university has helped me to get the job. It shows that I'm knowledgeable in a variety of topics. And knowledge such as SQL will be particularly useful to me".