Digital boost for hospital pharmacy
Welsh hospitals are to get a new hi-tech pharmacy system, in the first phase of a major plan to modernise pharmacy and prescribing.
The NHS Wales Informatics Service has signed a seven-year contract with software supplier WellSky International Ltd (WSI) formerly JAC for an all-Wales Hospital Pharmacy System, which will replace existing 30-year old software.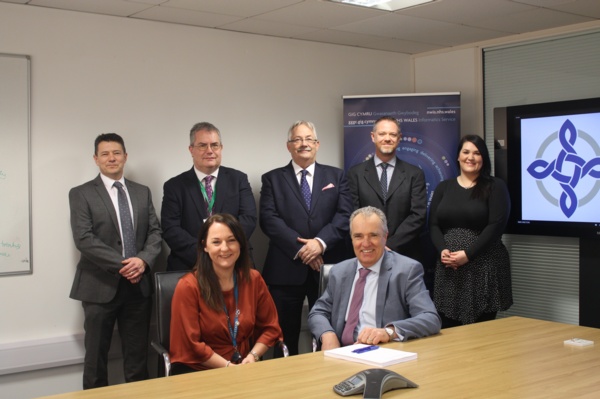 Left to right: Phil Ransome, Principal Project Manager NWIS, Colin Powell, Chief Pharmacist Acute Services ABUHB, Nigel Toms, National Sales Manager WellSky, James Goddard, Hospital e-Prescribing Lead NWIS, Sophie Hanson-Jones, Project Support Manager NWIS, Helen Thomas Interim Director NWIS, Robert Tysall-Blay, Chief Executive WellSky
The new pharmacy system will improve computerised dispensing and medicines stock management.
Colin Powell, Chief Pharmacist - Acute Services at Aneurin Bevan said: "This will be a new way of working for hospital pharmacy with improved data and reporting to shape future services."
Robert Tysall-Blay, Chief Executive, WellSky Intl said "The All Wales Pharmacy project will assist transformational change and provide an enhanced service. WellSky International is delighted to be working with NWIS and the wider Welsh pharmacy community on this exciting new national digital project."
The modern pharmacy system is more efficient to use and offers a more joined up and consistent way of working across hospitals in Wales. It will link medication dispensing and usage data by using nationally recognised standards. This will allow for a more comprehensive real time view of this information across Wales.
Importantly, whilst the new system delivers its own significant benefits to pharmacy departments, clinicians and patients, this also represents an important first step in the journey to implement national electronic prescribing and medicines administration in hospitals in NHS Wales. A project that will replace paper prescriptions and medicines administration records with a digital system in order to optimising processes and improve patient safety.
The new all-Wales pharmacy system will roll out to all Welsh hospitals from mid-2020, followed by a procurement for an e-prescribing system.
Published: 12/02/2020