Covid-19 Data Hub
The DHCW Covid-19 Datahub was created from by the Information Services Directorate and acts as a 'One Stop Shop' for all-Wales information on the virus.
The hub displays a mixture of data visualisations and tables, developed in Logi Analytics. The dashboard sources come from the virtual COVID-19 datastore in the National Data Warehouse, which includes existing and new data flows to support the management of COVID-19.
Currently the hub includes both summaries and in-depth explorations of the following:
COVID-19 tests summary

Health Board sitreps capacity and activity

Positive tests by Local Authority and turn around times

Daily ED attendances

Ambulance calls

Ambulance calls by Health Board

Primary care

111 calls and symptom checker usage

Mortality data

Data extract facility, enabling the user to extract the data behind the visualisations in the dashboard

Shielded patient maps

Data modelling tools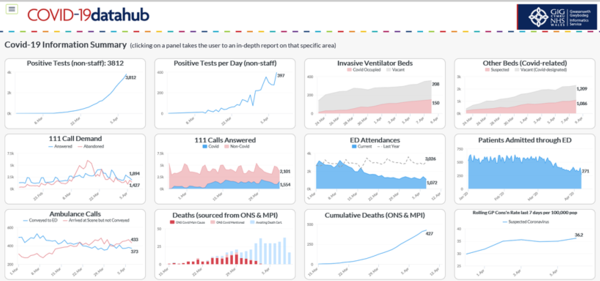 Front page of the data hub Covid-19 data hub
Access
Navigate to https://isdapps.wales.nhs.uk/COVID-19 (or for Welsh Government users, select the link to the Data Hub in the WG Access gateway) but please note that only registered users can access the system as much of the reporting within is provisional. To request access to, please register by selecting the 'Request Covid-19 Dashboard Access' button and where you will be required provide your name, email address and organisation details.
For any queries please go to the NWIS Covid-19 Information mailbox at NWISCOV19DATA@Wales.nhs.uk
The impact of data in a pandemic
To understand and predict demand on health and care services during the COVID-19 pandemic timely data is critical.
Working collaboratively with health boards, Digital Health and Care Wales has fast-tracked the development of a new Data Hub, so decision makers can have a real-time view of the NHS Wales' response to the pandemic.
The data hub brings together information from disparate sources, providing a single source of evidence about a rapidly changing situation.
Data is collected from across NHS Wales, hospitals, GP surgeries, emergency care, the Welsh Ambulance Service, 111 and NHS Direct Wales call centres and is combined with COVID-19 test results.
Collected data, held securely within the NHS Wales data warehouse, is cleansed, anonymised and integrated to provide the metrics and scientific evidence required to aid understanding at both local, national and UK levels.
Reports available illustrate the status of the NHS Wales response to COVID-19. The data hub does not provide access to any patient-level data.
To meet an ever-changing situation the data hub is under continuous development. The first version launched in early April, 2020.
Data reports available show:
Capacity at hospitals in each health board, including admissions and discharges, invasive ventilator beds, other COVID-19 related beds, mortuary spaces and hospitals deaths.
Positive COVID-19 lab tests by local authority
Daily attendances at hospital Emergency Departments
Statistics from the ambulance service and NHS 111 call centres
GP appointments data
Using the reports from the data-hub decision makers will be able to:
Identify hot-spots and trends in access to healthcare
Manage capacity based on demand and availability
Information Governance
All data is held securely by Digital Health and Care Wales and is subject to the information governance framework and data protection legislation that we use in our daily work.