Digital Services for Patients and Public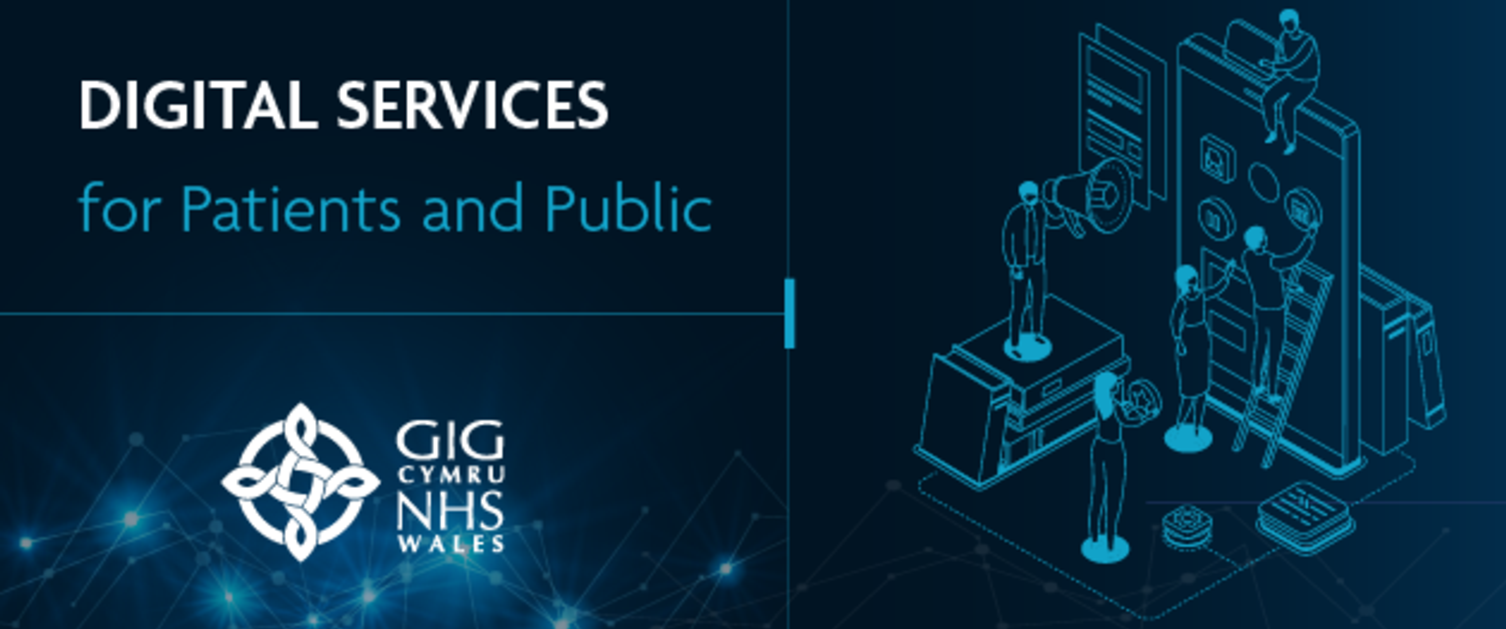 The use of technology is accelerating across Wales, allowing people to access healthcare advice and services digitally. This includes a national roll-out of video consultations with primary health care, secondary and community services.
Funding for the Digital Services for Patients and the Public (DSPP) programme was agreed by the Welsh Government in March 2021 to help co-ordinate the rapid delivery of digital solutions and health and care applications across Wales.
To deliver the services needed, NHS Wales launched a procurement process in April 2021 to appoint two development partners for:
• Building an App for health and care services in Wales (user facing application) for use by people living in Wales via their smartphones and other personal technology devices,
• Setting up and running the technical and data environment needed for patient facing digital applications across Wales.

What is the Digital Services for Patients and the Public (DSPP) programme?
NHS Wales aims to transform digital services for patients and the public through the introduction of digital services as described in A healthier Wales: long term plan for health and social care. A part of this vision is to develop and deliver digital solution(s) accessible to the majority of people living in Wales and their health and care providers.
The DSPP programme will support the development of the next generation of health and care digital services in Wales. The programme will develop a gateway application (App), allowing people in Wales to select the digital health and care services they wish to use from their smartphones and other mobile devices, empowering people to play an increasingly active role in managing their own health and care.
In addition, the programme will allow current and future health and care applications to work together and use joined-up, safe and secure underpinning solutions to deliver their services to people in Wales.
Why has the programme been established now?
The programme was established to provide a coordinated approach to the delivery of digital solutions for health, wellbeing and social care for the people of Wales to meet the health and social care needs of the population. The deployment of digital solutions to support the national response to COVID-19 has further highlighted the need for national digital solutions that provide people with coordinated, responsive and proactive care, throughout their lives.
What will this programme do for the public and care providers?
For patients and the public in Wales, the programme's solutions will make it easier and more convenient to access the health and care services they need, mirroring their experience of other aspects of everyday life and replacing outdated paper-based and system-centred processes. For example, being able to receive correspondence in the way they wish and to see and change their healthcare appointments online to a more convenient time or day.
Patients and public will also be able to share decision making and information seamlessly with care staff through digital technology so that they can become more active participants in important decisions and be empowered to look after their own health and wellbeing.
Care providers will find it easier to join up all the information about the person they are looking after while reducing the time needed for paper administrative processes. Solutions will also allow care providers to monitor those they look after at a distance and will allow for better risk-based decisions about the level of care a person requires, on the basis of a wide range of health and wellbeing data.
Who is responsible for this programme?
The Digital Services for Patients and Public programme is funded by the Welsh Assembly Government and delivered by Digital Health and Care Wales. Huw George, Deputy CEO and Executive Director for Operations and Finance at Public Health Wales is the Programme's sponsor.
How will the programme make sure public and patient information will be safe?
The programme has put in place a governance mechanism to ensure it meets the highest technical and information management standards. Five "assurance groups" will scrutinise and direct the programme on information security and other technical, user, design and ethical matters:
Practitioner assurance group: representing health and care professionals - To advise the Programme on matter of clinical safety and efficacy in respect of the solution design and use.

Technical assurance group: acting as the "Design Authority" for the programme - to ensure that the agreed technical design meets relevant design, interoperability and security standards in place across the NHS and care system in Wales.

Patient and Public assurance group: representing patients and uses to ensure a user focus is maintained throughout the Programme and the needs, wishes and views of people in Wales are reflected in the solution design, implementation and operation.

Service delivery and transformation assurance group: To ensure that solutions proposed and developed by the Programme are fit for purpose from a clinical administration and service delivery perspective.

Ethics and Information Governance assurance group: Provide ethical, moral and information governance guidance to the programme on non-clinical and treatment matters. 
Any solutions the programme develops will operate within the safe and secure NHS technology environment in Wales within which currently GPs, hospitals and other health services operate. Any applications (apps) or websites developed by the programme will comply with Public Sector Bodies (Websites and Mobile Applications) (No.2) Accessibility Regulations 2018.
Why do we need a Digital Services programme in Wales? Can't we use Digital Solutions such as the NHS App developed in England and other regions?
The DSPP programme is continuously reviewing and assessing potential Digital Services both within and outside Wales for their suitability as programme solutions. A number of existing Apps within NHS Wales and the wider health and care system may continue to operate and be strengthened by using the new solutions developed by this programme. Any solution that is deemed by the programme to help fulfil its vision and conform to its standards and requirements will be considered for addition.
How will DSPP make sure frontline staff are trained to use emerging solutions from this programme?
The new digital services will create opportunities for developing new care pathways and treatment models. The programme will support the project leaders and teams of all the initiatives it facilitates, to ensure staff are trained and equipped to implement new solutions.
How can we find more information about the programme/get involved?
If you are interested in supporting the programme or finding out more about our work, please email us at DSPPInfo@wales.nhs.uk.