Welsh Intensive Care Information System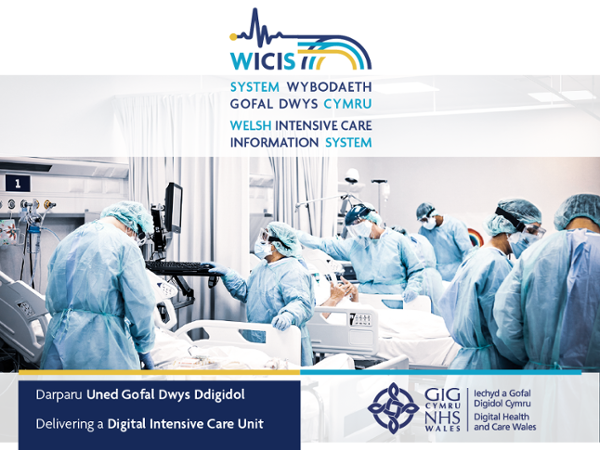 Delivering a digital Intensive Care Unit
Launching in early 2023
Within Wales' intensive care units, continuous patient monitoring is essential to detect critical changes in a patient's condition. When every second counts for health staff who need to make critical decisions for seriously ill patients, information is a vital resource.
Now, there will be a new digital solution to replace paper charts and the hand-written observations that are used to record vital life signs. The new Grange University Hospital Intensive Care Unit in Aneurin Bevan University Health Board, will be the first of all 14 Welsh adult critical care units to adopt the new digital service.
The new fully-managed digital solution is capable of replacing all existing charts. It will collect real-time information automatically from the monitoring devices, pumps and respiratory equipment used for each patient's care, providing easy access to vital data and insights, giving frontline staff a quick and clear overview of the status of patients and devices across the ward.
With more than 10,000 people admitted for critical care in Welsh hospitals each year combined with increasing pressure on intensive care, digital enhancement of Intensive Care Units will improve care by streamlining processes, providing vital clinical information and saving nursing staff from documenting at the bedside.
Integration with NHS Wales systems will enable intensive care staff to:
record patient assessments electronically

manage prescriptions and drug administration at the bedside

connect with bedside equipment to record vital signs and fluid balance

calculate a patient's acuity scores

better manage infection control

manage daily care plans

create reports on results and department objectives

support national audit and research needs
Information is collated in a dynamic database, which can also be used to benchmark against other healthcare systems and provide a platform for research and potential implementation of artificial intelligence-driven improvements in daily care.
To meet the requirements of a challenging clinical environment, introduction of the digital solution is led by senior ICU consultant Tamas Szakmany MBE, supported by a multi-speciality programme board and a team of technical and information specialists.
Delivered by supplier Ascom for Digital Health and Care Wales, the contract was awarded in 2020, which you can find out about here.